A reusable pad typically does the work of four disposable pads. So Lets compare the environmental impact of one Comfy Absorbent bed pad, To that of 800 disposable pads (4 pads x 200 linen sets)…a 100 bed facility saves 132 cubic yards of landfill space in one year by choosing reusables over disposables.
---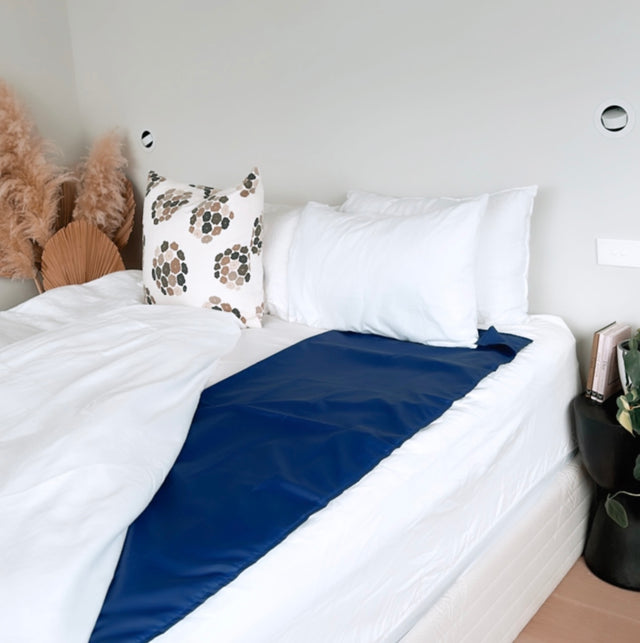 by Staydry.co.nz
Slippery Sam slider sheet ( Moving Aid )-Standard
Slippery Sam - Moving Aid 
This clever slide sheet is used to position and move people with ease. Maneuvering is simplified for caregivers; the slide sheet works by sliding under the user rather than having to lift. What makes this slide sheet so easy is the special silicon coated polyester taffeta,
Incredibly light and durable Small to store Away the Slippery Sam is a must-have piece of equipment in healthcare settings.
Uses for the slide sheet include moving patients from beds to chairs, or from Bed to bed. also aids in moving clients up the bed. 
When you need to put on the sling in a wheelchair, it can sometimes be difficult to position the sling as usual, especially when the chair has a high back. To reduce the friction between the back of the patient the Slippery Sam makes this easier.
Size: 1.5m x 0.95m
Colors: Navy, Maroon, Green, Blue
Sold Per Unit
or 
Per Carton ( 40 Units)
(Wholesale Rates applied for Per carton 
Purchases, Savings $260 per carton)
Machine washable
Visit product page
Looking for Incontinence Products in NZ?
Stay Dry supplies a complete range of adult incontinence products in NZ. Dealing with and addressing urinary or faecal incontinence is a significant challenge. We can support your requirements discreetly to help normalise your life. Our specialised products promote dignity and provide protection and comfort for people with incontinence-related issues. Below are some standard adult incontinence products:
Absorbent pads. Discreet and thin, you can wear these pads with regular underwear. The absorbent core captures and locks away moisture.
Protective underwear.The permeable centre is designed for moderate to heavy protection; wear it like everyday underwear.
Adult diapers. These diapers have been specifically designed for adults. They are available in different sizes and absorbency levels to provide full coverage.
Incontinence liners. Liners are thin pads that provide light to moderate protection for those who need additional security. You can combine them with regular underwear or other incontinence products.
Hypoallergenic Material
All our elderly incontinence products are hypoallergenic, made from velvety fabrics that are soft against the skin, absorb moisture rapidly and neutralise odours. Why not talk to us about your specific requirements, and we'll recommend the most comfortable and practical solution?